Four Brothers of West Park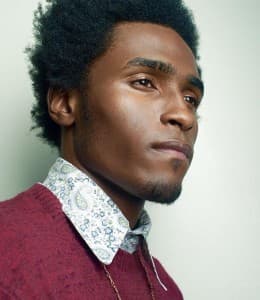 "As a graduate of the program I can definitely say that being a part of West Park Cultural Center has changed my life for the better. West Park was instrumental in my decision to pursue a career in music and since my graduation from the program I have been selected to be on the board of directors. I am currently a working musician and I attribute most of my current success to what I learned while enrolled in WPCC's program."
– Ismail
As a former teacher with the School District of Philadelphia, I know that Ismail's words genuinely and accurately reflect the growing need, necessity and importance of quality arts and educational programming in schools. They are not only essential to the civic, academic and cultural growth of the participants, but I believe one of the keys to the survival of African American males like Ismail Abdus-Salaam, Roger Hackney, Eric Weston, and Eric-Scott Murphy in this country.
When expressive arts and quality after-school programs like the ones offered by West Park Cultural Center (WPCC) are absent, school attendance, social maturity, the love of life-long learning cease to exist, and student apathy and youth violence increase. As a master Learn and Serve teacher, my students and I conducted four years of research on the effects of the loss of expressive arts at the now defunct, Dr. John P. Turner Middle school, especially after the introduction of "No Child Left Behind," where testing scores trumped emotional and social development of our students. Their research which was presented at national Learn and Serve conferences, demonstrated through data when schools eliminated expressive arts to boost test scores, school climate was severely impacted.  They developed fight intensity scales and kept track of the rise in school violence and the areas where this violence occurred. In addition, after conducting numerous surveys, their data demonstrated or suggested that their peers lost interest in school or the joy of even coming to school due to unbelievable pressure to test well. Finally, their research evaluated the District's attempts to curb this increase in violence with Saturday detention school initiatives which in their opinion did not address or impact school climate at all. What they did learn, was that leaving one ninety-minute reading class to attend another one frustrated so many students that classes became basically unteachable. To combat this, they created their own school improvement plan where expressive arts activities were definitely increased and included. Their improvement plan included, guess what?

More arts in educational programming like those offered by West Park Cultural Center. West Park is the secret behind Eric Weston, Ismail Abdus-Salaam, Roger Hackney and Eric Scott-Murphy, and I was one of their teachers who utilized the WPCC programs available to educators at the High School of the Future located in West Philadelphia.
As an educator, I had the distinct experience of first teaching at the now defunct Turner Middle School with the West Philadelphia Improvement Core or WEPIC which became the first University assisted school in the country and then, at the High School of the future with the introduction of West Park cultural Center. I learned to appreciate and recognize how important it is to have access to programs like these and their impact on educators, students and communities. I also know what happens to educators, students and communities when they leave. Disaster. When School administrations are forced to cut funding, expressive arts are the first to go. More importantly, when test scores trump everything else, administrator and administrations are more inclined or forced to spend their money hiring staff to teach core subjects. As a result, I watched Turner go from being a national model of one of the first communities in schools in America, to a violent prone lonely middle school in Southwest Philadelphia. The pool, Home Economic, metal and wood shops and art suites all dismantled and shuttered. It is sadly, now a KIPP Charter School, not that KIPP is bad, but that this national model closed.
What our District or I should say the country failed to do was to keep open the connections between academic successes with the arts. Music is math, history and English. Home Economics is math, history and cultural expression. The list of connections goes on. Not to mention necessary. Just look at our national obesity levels among our youth and you can see that when you even cut gym like we did, well the results are in the pudding. I also learned from experience that when teachers are not trained to think of creative ways to collaborate regular academic subjects into expressive arts, the result is bored schools and students. Therefore training teachers in designing projects that incorporate expressive arts for students like the four young men in this article, is a must.
As a teacher, using projects that include expressive arts created wonderful learning experiences not only for my students, but for myself as an educator. The problem arises when lack of funding for teacher training prevents too many teachers from learning how to design projects using national, state standards, and their district's curriculum to create unique inclusive learning modules. When WEPIC ended, I never thought I would see another avenue for teachers like me to utilize to improve my own teaching skills and student achievement. Enter West Park Cultural Center to the rescue. Teachers who were not exposed to community programs like this were cautious, but I knew from experience to jump on it, and I did. With both feet and plunged into the possibilities I knew how to tap.
Organizations like West Park Cultural Center offers vital artistic connections to schools. West Park not only offers "beyond the school bell" arts in education programming, but also offers in-school time activities with classroom teachers and students as well. For example, WPCC's "Arts for Literacy" works with teachers bringing performance artists, live Shakespearean actors, spoken word artists, and authors of literary works being studied in class, helping students connect to their studies, realize academic achievement and spark new interest not only in the arts, but life. They provide a means for students like Ismail to gain the knowledge, courage and drive to actively pursue careers in the arts. Ismail's is now a full-time musician who is touring not only coast to coast, but abroad as well playing his own music. Music he learned how to create as a direct result of being involved in WPCC's after school Beats Class. Working in tandem with the school's music teacher, and WPCC staff, he learned all about music production which taught him the tools he needed in order to grow into teaching young teens himself at a local after-school program in middle school in Northeast Philadelphia. In short he stated, "West Park provided me the tools to grow into the artist I am today." He even has more shows coming up and is fine-tuning his musical directing skills to further his career and the careers of others. To think that this young man, who now stands at 6'2" is the same young man who I met over six years ago who informed me that he used to be a school bully. West Park offered him the time and space to grow into becoming the confident and gentle young mentor he is. What a wonderful model!
From my experiences at Turner Middle School, I immediately recognized the value of WPCC's Artists in Residence program and literally jumped at the chance to incorporate them into my classroom, dragging Roger and Ismail with me to work on three service learning projects. Eden Cemetery, The Underground Railroad Docent Training Program at Belmont Mansion, and the President's House projects. Ismail wrote the "Ballad of Cornelia Wells," an enslaved African American woman who was manumitted by the owner of the Mansion, Judge Peters, now owned by the American Women's Heritage Society. Roger became a docent and conducted tours of the Mansion for the general public. He also worked on the Eden project. As Roger and Ismail became more interested in the projects, they became more involved and interested in school. Yes! The magic was back.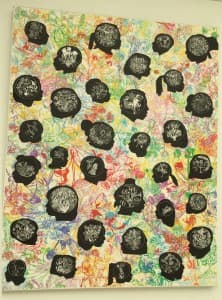 Want to get and keep kids interested in school? Go scary, so after reading about the vandalism at a Cemetery, I asked WPCC to help me launch this ghoulish Cemetery project. We designed and implemented the "Eden Cemetery" project, a service-learning project developed to help preserve the first privately owned African American graveyard in the in the country. Eden Cemetery, located in Delaware County, was with dealing with an increase in vandalism. This cemetery is the final resting place of some of the country's "Founding Brothers," like Richard Allen, Founder of Mother Bethel Church, William Still, the conductor of the Underground Railroad, Marion Anderson, and Octavius Catto to name a few.
Preserving this historic cemetery and reducing vandalism became the focus of the students and with Vogel's assistance, an artist in residence, not only created community awareness as to why this cemetery should be protected from vandals, but through the arts created a mural where 18th century technology met the 21st century. Artist Ben Vogel, and Roger along with the other docents used an 18th silhouettes designing process and 21st century computers to generate self-silhouette portraits of the participants, based on Moses Williams an 18th century enslaved African owned by the famous artist Charles Willson Peale family. Using Benjamin Franklin's physionotrace invention to create and sell silhouettes for five-eight-cents a-piece he was able to purchase his freedom, home and to marry. This mural hangs on the wall at the School of the Future.
Just look how history and art came together because of WPCC to create a wonderful lasting learning experience for these students like Roger Hackney, a fabulous WPCC prodigy. Roger became involved in West Park's after-school programs in ninth grade at the School of the Future. When I first met him, he was only interested in auto mechanics and certainly had no interest in technology or the arts. He said, "I had no idea you know that I was going to get involved in any kind of art, let alone technology. I never even heard of or realized how many different careers were out there until I was introduced to West Park." According to him, the After-school program provided a safe place for him to hang out with his friends and learn just how creative he was. Like Ismail, he too claims that he has learned how important it is to reach back, pull up someone else, and become a contributing member of his community. Roger along with Eric Weston and Eric Scott-Murphy learned how to build sets, set up sound systems and lighting. In short, everything for visual arts production. He learned how to use computers to not only complete his academic studies, but as a tool for career development as well. Roger is currently working at a Fortune 500 company at Pfizer creating technical documents for prospective business users. He says, "Learning how to work with different professionals taught me how to think and behave like a professional. I learned a whole lot about what you need to know in order to expand your horizons and create more career opportunities for myself."
Eric Weston and Eric Scott-Murphy make up the final two who benefited from WPCC's programming. Eric Weston is a master beat maker and computer specialist, currently employed as an IT Support Specialist at the University of Pennsylvania's Wharton School. Eric Scott-Murphy, is a recent Penn State graduate, currently working for Microsoft as a Cyber Security Consultant in Seattle, Washington, and that I had the pleasure of knowing, teaching and serving up breakfast to. All three not only watched Shakespeare come alive in their English classes and listened to older men from the community talk about their lives growing up in Philadelphia, but also ran the entire audio visual system for the school. They became the go to men if you needed lighting, sound, help with your laptops and inspiration, skills they honed in WPCC's during and after-school programming.
They prove without a doubt that black lives matter, and demonstrate that arts do empower youth. West Park Arts in Education program developed and honed their abilities to express themselves in a variety of venues leading to more productive lives in measurable ways. West Park can be proud of the fact that their programs guided these four young men to learn how to shoot for the stars. All four bonded together and together they changed the projections of their lives. Just imagine the impact on the juvenile justice system if more programs like West Park existed in our public schools. How many more lives of young urban African American males like Eric, Roger, Ismail and Eric Scott-Murphy could be rerouted from the paths of possible incarceration, to productive citizens? Robert Frost wrote a poem about the "Road not Taken," but what if WPCC wasn't there for these young men? What road would they have taken especially when you are only exposed to one? This country needs to open up, build and repair more roads for our youth, to increase their chances of choosing the right road, and West Park Cultural Center has proven it knows how and does.
– Kathleen Lee, Educator and Associate Producer of the Trudy Haynes Show
Register Your Camper
Register your child for Camp Ginkgo or Ginkgo Academy.