Volunteer Opportunities
Volunteers play a significant role in the success of the West Park Arts Fest. It is a fun day that offers a wide range of volunteer activities. Every volunteer receives a West Park Arts Fest T-shirt and access to our hospitality tent. Volunteers should wear comfortable shoes.
We are thrilled to have Jasmine Bullock as our Volunteer Coordinator.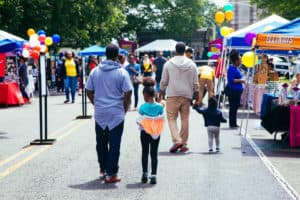 We ask volunteers to give us a minimum of 4 hrs but all day is always welcome.
Volunteer Tasks
Morning / 7am – 12:30pm
Place signage, balloons, etc.
Set-up  tables & chairs
Give parking directions to vendors and volunteers
Assist with vendor check-in
Help vendors unload (10am – 11:30am) (6 + volunteers)
Assist Tech Director with sound set-up (2 males)
Assist with talent & activity check-in
Greet festival goers & give out programs
Help monitor volunteer hospitality tent and talent tent
Help document the event with photography, video and/or posting on social media
Afternoon / 12am – 5:30pm
Help monitor volunteer hospitality tent and talent tent
Serve as a vendor tent sitter (for restroom and lunch break)
Assist with talent & activity check-in
Talent handlers
Greet festival goers and give out programs
Help direct people to performances and activities
Assist with children's activities where needed
Help document the event with photography, video and/or posting on social media
Provide parking and restroom directions
Help with trolley tour check-in
Participate in ongoing clean up
6:00pm-6:30pm
Help with tech load-out (2 males/6:00-6:30pm)
Help with general breakdown
Contact: Jasmine Bullock