Fall 2021 Programs
To REGISTER for our Fall 2021 Programs, scroll down to the bottom of the page and fill out the form!
To receive information on future programs, sign up for our email newsletter by clicking the "Stay Informed" button at the bottom of the page. 
Arts & Activism: Climate Change (a partnership with UPenn's Chapter of Stemnova and the Philadelphia Zoo)
THERE IS STILL TIME TO JOIN US / SCROLL DOWN TO THE REGISTRATION FORM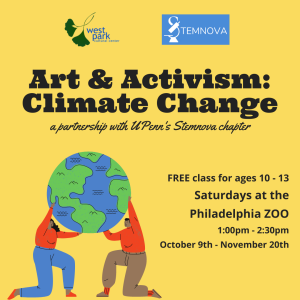 When: Saturdays 1:00pm – 2:30pm
Where: The Philadelphia Zoo (we will meet outside the main gates every morning and enter the Zoo together)
Dates: October 9th – November 20th
West Park Cultural Center and UPenn's chapter of Stemnova  to explore the causes and consequences of climate change in our community! Design and build a sustainable city with your friends! Learn how to navigate and tackle a changing environment and potentially share ideas with actual Philadelphia policymakers. This course will be taught by UPenn students who are excited to meet you! For more information on course content, feel free to reach out to
ryalee@sas.upenn.edu
.
Design Your Own Anime Character with Janice Merendino (The Class is Full)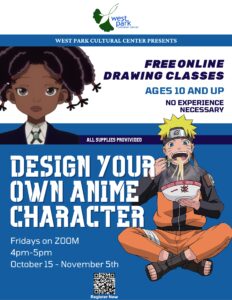 When: Fridays 4:00pm – 5:00pm
Where: Online via Zoom
Dates: October 15th – November 8th
If you are interested in the Japanese art forms of Anime and Manga, this class will help you get started designing and drawing your own unique characters.  We will learn how to draw typical facial features with a variety of pencil and inking techniques in Manga cartooning style.  
Afterschool Youth Arts Registration Form
danceLogic 

This program is designed for teen girls that combines dance and computer coding. Dance and coding have similar language involving repetition, direction, and combinations. The industry standard coding language they learn will inspire original choreography.
Saturdays
Time: 12:00pm-1:00pm (dance)
1:30pm-2:30pm (coding)
Ages: 13-18
Click to see more danceLogic information and to register