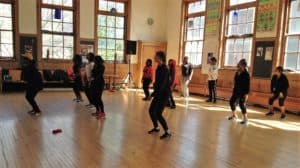 "danceLogic is a space where creativity lives in arts and science, here young girls have infinite possibilities" – Shanel Edwards, Instructor
The West Park Cultural Center is offering their danceLogic program for the second time this year, a unique S.T.E.A.M. program that combines dance and computer coding leading to the development of original choreography and performance. Girls ages 13 through 18 years old learn the value of focus, dedication, and teamwork, as well as industry standard coding language.
danceLogic is an innovative program designed to educate, inspire and cultivate girls of color, regardless of their background or financial status, to explore the S.T.E.A.M. field: science, technology, engineering, arts and mathematics in a creative, active and exciting structure. Dance and coding have similar language involving repetition, direction, and combinations. The program uses dance to spark an interest in STEAM, now and in the future.
Shanel Edwards, co-instructor of dancelogic, says "danceLogic is helping these girls have access to the art realm and science world as possible career paths, it is allowing them to stretch their boundaries of what success looks like for them."
During the dance class, led by instructors Shanel Edwards of D2D The Company and Annie Fortenberry, a performer with Ballet 180, the girls learn dance skills and movement techniques. This is followed by an hour of learning industry standard coding language under the direction of coding instructor Franklyn Athias, Senior Vice President Network and Communications Engineering at Comcast who says "I'm helping the kids see that someone, just like them, was able to use Science and Technology to find a very successful career."
When the girls progress to creating their original choreography, they use coding as a reference. "The combinations of dance and logic have good synergies. Learning something like dance requires practice, just like coding", explains Franklyn Athias. "The dance is more physical, but it requires the students to try, fail, and try again. Before long, the muscle memory kicks in, and the student forgets how hard it was before. Coding is the same thing. Learning the syntax of coding is not a natural thing. Repetition is what makes you good at it. After learning the first programming language, the students can learn other programming languages because it becomes much easier."
Annie Fortenberry adds "My favorite thing about the program is that the students can explore leadership roles. By building their choreography and supporting each other in coding class, they navigate creating and sharing those creations, as well as resolving conflict to make one cohesive dance. There's a lot of beauty and bravery in that process."
The very first session of DanceLogic culminated with a performance at the 11th annual West Park Arts Fest. The girls performed choreography, shared what they learned and how it has impacted their lives. They committed to continuing their coding education over the summer and into the new school year.
To sign up or learn more, please visit: www.westparkcultural.org/dancelogic
Article by Niesha Kennedy