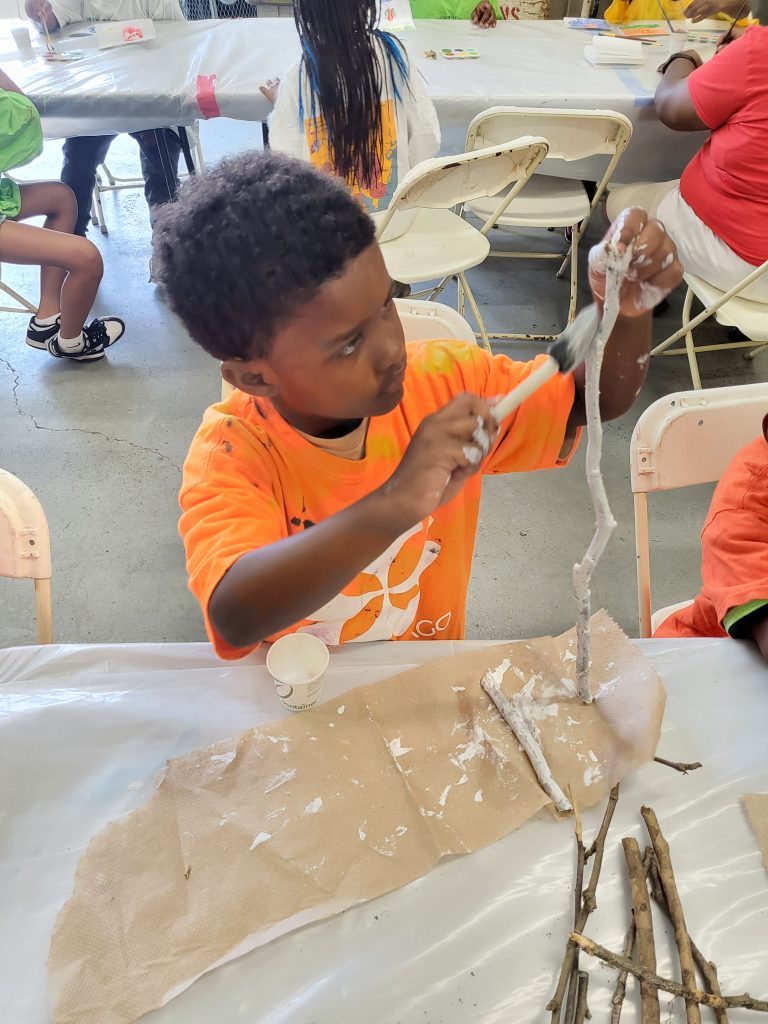 Camp Ginkgo 2023 ended on August 4. Watch for 2024 information.
Camp starts the Monday after July 4th and runs for four weeks Monday thru Friday 8:00am to 3:00pm. Extended time to 3:30 pm is available for an additional cost of $10 per day. Breakfast and lunch are provided. Our staff to camper ratio is at least 1-5.
Horticulture Center in beautiful Fairmount Park, 100 N. Horticulture Drive, Philadelphia, PA 19131
WE HOPE TO SEE YOU FOR CAMP GINKGO
Since 2002 WPCC has offered this summer arts and nature program that provides four weeks of meaningful experiences beginning right after the July 4th holiday. Throughout the four weeks professional artists will work with the children on special projects that include visual arts, music, dance, theatre, and film/photography.
West Park Cultural has been in partnership with the Fairmount Park Horticulture Center for 15 years serving as our program venue with horticultural staff providing support to our artist/counselors as they weave nature into their arts projects. In addition to art making the children have field trips, swimming and other recreational activities.
Tuition is $700 covering all four weeks ($175 per week.) The cost of providing the camp exceeds our tuition. The modest fee is made possible through grants and individual donations making it possible for us to never turn a child away for financial reasons. Partial and full scholarships are available for those who qualify (see Financial Scholarship Application.)
To reserve a space for your child(ren) complete the Camp Ginkgo Registration below for each child. A $50 deposit is required at registration unless requesting scholarship. For questions email info@westparkcultural.org or call 215-473-7810.
Required forms for participation once registration is complete:
Camp Ginkgo Photo/Video Waiver
Camp Ginkgo Guidelines
Camp Ginkgo Insurance/Medical Info Form
Parent Checklist
The Camp Ginkgo experience has a positive impact on children. Some of the expected outcomes include:
– Improved interpersonal and communication skills
– Acquired arts skills
– Increased knowledge of the environment and their park
– New motivation for learning
Javitta Brockington, AKA "Renee' James" a local Artist Teacher, is known for founding WEPAINT Community A.R.T.; "It's Always the Right Time to Paint Together!" For over a decade, Javitta Renee' has created, developed, and facilitated projects, programs, and events centered around community painting, and also integrated this creative concept into an African American Step Ensemble program, "Step Into Leadership." Inspired by unity, Renee' is passionate about uplifting others and sharing our gifts and talents. Having had the opportunity and pleasure of exploring abstract and communal art with West Park students and others in schools, summer camps, afterschool programs, and in their own communities, she recognizes the greatness as well as the conflict of community engagement. Identifying areas in which this conflict hinders greatness, Renee' James works to integrate concepts of positive social interaction and elements of art to encourage positive communal creation and thus greatness!
Jada is a student at Community College of Philadelphia majoring in Art & Design. She is an apprentice with the dance company DanceFusion. She grew up dancing in Drexel and Temple's children programs and in high school Jada joined West Park Cultural Center's danceLogic program combining dance and computer coding. After graduating from Agora Cyber Charter School and danceLogic, Jada was recognized by West Park Cultural Center during the 2022 West Park Arts Fest for excellence in the program.
Clarence is a fine artist and graphic design educator. Re received his Bachelor of Liberal Arts and Integrative Arts/Psychology at Penn State University. He currently teaches at the Laboratory Charter School and has worked at Roberto Clemente School and Longstreth Elementary School. Clarence is working on an Art Certificate at the Moore College of Art. He has a passion to teach children to understand the aesthetic of art and design.
Jerry Puryear, Camp Manager
Jerry studied at the Corcoran School of Art in Washington, D.C. and later at Saint Joseph's University (Bachelor of Arts in Fine Arts). Most of his work is acrylic on canvas. However, he uses whatever medium that I can find from plexiglass, wood, or any upcycled material, because he believes everything has value and can be made into something beautiful. Although, his creations are ultimately his strongest vehicle of change, He finds it important to have a hand in helping to change the world by impacting young people's lives. Over the past 10 years he served as the Resident Teaching Artist and mentor with the Fine Art Through Our Eyes art program under the Mill Creek Community Partnership. Jerry joined the West Park Cultural Center staff as Program Manager in 2022.