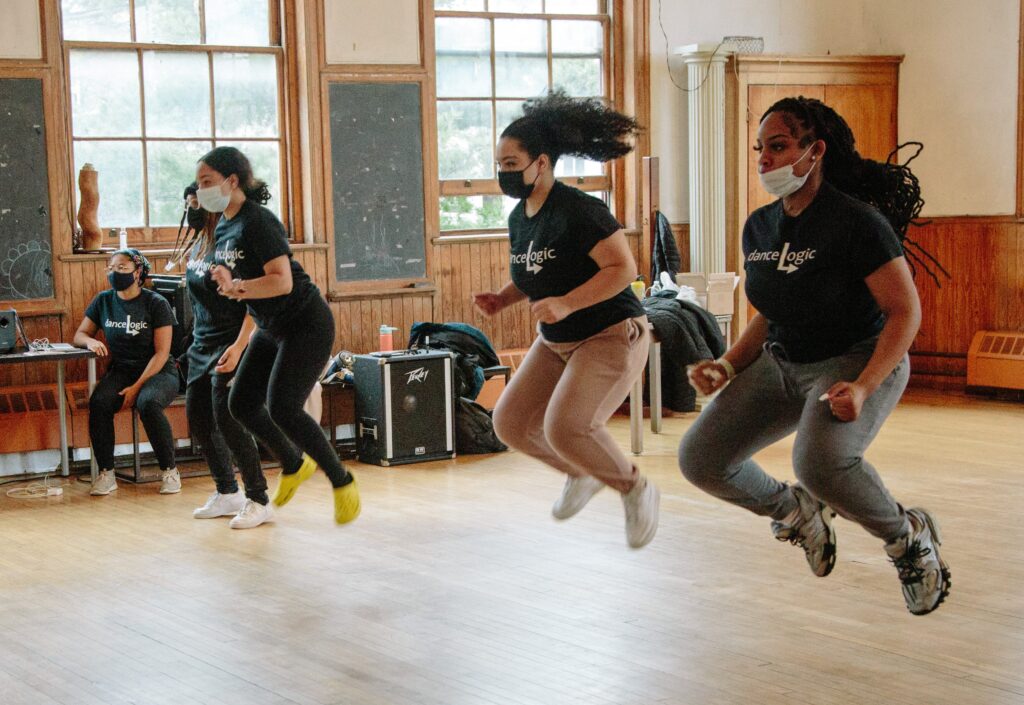 WHEN
In-person Classes
October 7 – December 16 &
January 7- June 1, 2024
Saturdays 10:00 am – 1:00 pm
Dance/10:00 am – 11:30 am
Coding/11:40 am – 1:00 pm
(no classes on November 23, March 23, & May 25, 2024)
WHERE
In Person Classes
Community Education Center (CEC)
3500 Lancaster Avenue, Philadelphia, PA 19104
Registration is open!
Dance and Computer Coding for young ladies aged 10 and up
The program combines the art of dance and computer coding leading to the development of original choreography and performance. Girls learn the value of focus, dedication, and teamwork, as well as career-building industry-standard computer programming skills. danceLogic runs from October thru the second Saturday in June when they perform at the annual West Park Arts Fest.
This unique program motivates girls, young women, and especially women of color to explore the world of STEAM. Students understand the mechanics of choreography and coding, leading to their development of original dance performance, demonstrating coding skills moving toward more advanced levels and programming projects, including advanced coding languages like Python, C++, Java, and HTML to create websites when they move up to advanced coding. 
Both coding and dance function as forms of creation that utilize repetition and collaboration to produce work. Students must be engaged and willing to work hard. Our goal is to give girls a sense of agency and autonomy in STEAM, to combine the necessity of the arts and sciences.
Requirements:
NO prior dance or coding experience required!
Regular attendance
Click the blue REGISTER NOW button to sign up!
Registration one-time fee covering October 2023 to June 2024: $100
If this presents a financial hardship, please select "request scholarship" when submitting your registration.
If you have questions, please reach out to us at info@westparkculturalcenter.org or call 215-473-7810.
Learn dance skills and movement techniques
Create your own choreography using coding as a reference
Build leadership roles
Learn valuable computer programming skills
CHERYL ANNA BOSTIC-ATHIAS SCHOLARSHIP
West Park Cultural Center (WPCC) announced the creation of the Cheryl Anna Bostic-Athias (CABA) Scholarship and a yearly Recognition Award celebrating outstanding student accomplishments.
The CABA Scholarship is a new addition to the organization's danceLogic program. Co-creators of danceLogic, computer science engineer Franklyn Athias and WPCC executive director Betty Lindley, have formally launched this addition to the program. The CABA Scholarship recognizes outstanding achievement and participation in danceLogic for a young lady graduating high school and accepted into an accredited college or university as a full-time student. The recipient will receive a monthly stipend for up to four years. To be considered a young lady must have participated in danceLogic for a minimum of four years.
At the end of each program year, West Park Cultural Center will also recognize a participant for being an excellent student and demonstrating excellence in WPCC programming. The Recognition Award will be a one-time monetary award presented at the West Park Arts Fest in June.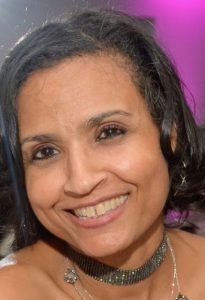 Cheryl Anna Bostic-Athias was born and raised in West Philadelphia, and programs like West Park Cultural Center helped her and ultimately led her to UPenn. She loved the danceLogic program and the potential opportunities it enabled. The CABA scholarship is a perfect way to help young ladies and remember her.
Cameron Bridgers, Dance Instructor
Cameron Bridgers is a dance artist based in Philadelphia PA, by way of West Orange, NJ. She began her dance journey at Sharron Miller's Performing Arts Academy in Montclair, NJ and is trained in Ballet, Modern, styles of the African Diaspora, Hip Hop, and improvisation. Cameron is a graduate of Temple University, Boyer College of Music and Dance, holding a Bachelor of Fine Arts in Dance. While at Temple, Cameron performed in numerous student-based concerts and has trained and worked with artists such as Kyle "Just Sole" Clarke, Esther Baker Tarpaga, Megan Bridge (Fidget), Jillian Harris, Kun Yang Lin, and more. Cameron is a dedicated advocate for dance Education in the K-12 setting and enjoys teaching students of all ages. She believes every person can benefit from and has the ability, to find expression in movement. Cameron will be apprenticing with the Koresh Kids Dance outreach program this fall, assisting in the integration of dance in elementary schools in the Philadelphia district.
Natasha S. Truitt, Dance Instructor
Natasha S. Truitt is from the Mt. Airy section of Philadelphia, PA. As a Philadelphia native, Natasha began her artistic journey performing on stage at age five. The performing arts have always been her passion! Natasha attended CAPA, the Philadelphia High School for the Creative and Performing Arts and graduated as a Dance Major & Vocal Minor. In furthering her education, she attended Temple University, graduating with a Bachelor of Arts from the School of Communications & Media Studies. On her artistic journey, Natasha takes gratitude in embarking on exciting opportunities. Natasha is proud of her accomplishments, to name a few: Miss Pennsylvania USA Pageant 2014 (Contestant), Philadelphia Soul (AFL) Dance Team (Dancer), and the Rockettes Master Series Experience Workshop, with the famous Radio City Rockettes! Natasha has performed numerous musical theater productions at the Ritz Theatre, Candlelight Theatre, and local theatres within the City of Philadelphia. She is also the Performing Arts leader/instructor for the community organization, Wake Up Your Mind's Art in Action program. Natasha is active at her church, attending the Tenth Memorial Baptist Church, serving as the Young Adult Ministry leader, and as a member of the Praise & Worship Vocal Ensemble. Natasha desires to further her artistic career, continuing to perform, learn and teach what she is blessed to do – the performing arts! She hopes to inspire, bless others, and impact the World and community of Philadelphia. To Create is to Come ALIVE.
Franklyn Athias, Coding Instructor
Franklyn recently retired as Senior Vice President Network and Communications Engineering at Comcast Cable where he has worked for the last 27 plus years. He has a BS degree from the Rochester Institute of Technology in Computer Science and has previously worked for the Franklin Mint, Hospital of the University of Pennsylvania and J.P. Morgan.
Devon Gooden, Coding Instructor
Devon Gooden (Coding Instructor) is a computer programmer based in Philadelphia, Pa. He currently resides in Philadelphia and has worked throughout the region. Devon is a graduate of John Bartram High School in West Philadelphia. Upon graduation, he took a 3-year tour in the U.S. Armed forces. After completing his tour of duty that included South Carolina, Kentucky, and the Pacific Far East in Korea, Devon returned to Philly and entered Temple University, majoring in Marketing and Computer Science. After graduation, he began his computer science career as a consultant for various corporate entities throughout the tri-state area. Devon currently works for RandStad consulting firm at Vanguard investment in Malvern, Pa. While working for Comcast Corporation, he met Franklyn Athias. Franklyn who five years ago introduced him to West Park Cultural Center, where he has volunteered and joined as a coding instructor for the danceLogic program. Devon teaches computer programming to numerous children in the Philly area. "It is a most fulfilling experience to be able to teach and change the lives of young people striving for knowledge in the technology field."